2021 DnD Taco Pro v1.0 Car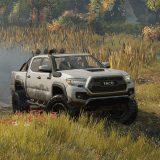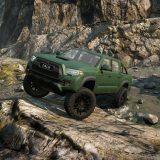 2021 DnD Taco Pro v1.0 Car
Designed by the gurus at the DnD Modding Team, the 2021 DnD Taco Pro is outfitted with specially engineered parts and accessories so you can take on the world's gnarliest terrain. It's time to get out there and tackle your next big adventure.
2021 DnD Taco Pro Highlights:
– Crawler Suspension / Transmission available to help you get through some of the most brutal off road journeys ensuring no obstacle is where your journey ends.
– Unique Trail Camera to help you tackle the road right in front of you, displayed conveniently in the head unit of your Multi Media Centre so you can make a "game plan" as you trek through the swamps, or hills.
– FOX Suspension sets for a little lift, or a more tolerant suspension set for the occasional towing.
– 3 Engine Options geared to ensure you can get the job done, or make it further than you ever imagined before with realisticly tuned fuel consumption thoroughly tested by the engineers of this mod.
– Multiple Tire & Wheel Options for any adventure
– Side Steps, a tool box… whatever you need, you can get it along with many other upgrades to allow you to remain full in control of your new Taco.
Thanks to:
AltCanadian (BA2017) for the model and a little XML work.
NitroScot & TnB_BigDubz for rims/tires.
RafaTGG for the brilliant tuning of the Crawler Suspension & Transmission
The MANY TESTERS… too numerous to mention. You guys are all legends. Thank you
Upgrades
Engine: Taco Certified (Stock, Upgraded, TRD PRO)
Gearbox: Taco Pro Crawler w/ Manual Gear, Taco Highway, Taco Pro Fine Tuned Off Road, Taco Pro Off Road Non Tuned, Taco Stock
Suspension: RCLT HD for Crawling, Taco FOX Balanced, Taco Pro Suspension, Taco PRO LIFTED Fox Sport
Winch: Stock Scout, Autonomous Scout, Autonomous Scout Extended
Tires: Selection of authentic off-road and mud tires.
Diff. Lock: Installed
Frame Addons: Fuel & Spare Wheel, Fuel, Trunk Supplies, Taco Pro Roll Bar, Roll Bar, Pick n Shovel, Toolbox, Trunk Supplies
Visuals
Roof Top: N/A
Bumpers: Taco Front Off Road Bumper.
Misc: Taco Pro Side Steps, Side Steps, Scout Trailer Hitch.
Exhaust: N/A
Rims: Selection of authentic rims.
Dashboard Full working gauges will high attention to details as should be expected from my mods.
Color
Full selection of colour options texturized to provide an authentic truck that's not just fresh out of the "dealer".
Interior Customization
Bubbleheads. Custom cards