SnowRunner on Epic Games Store service instead of Steam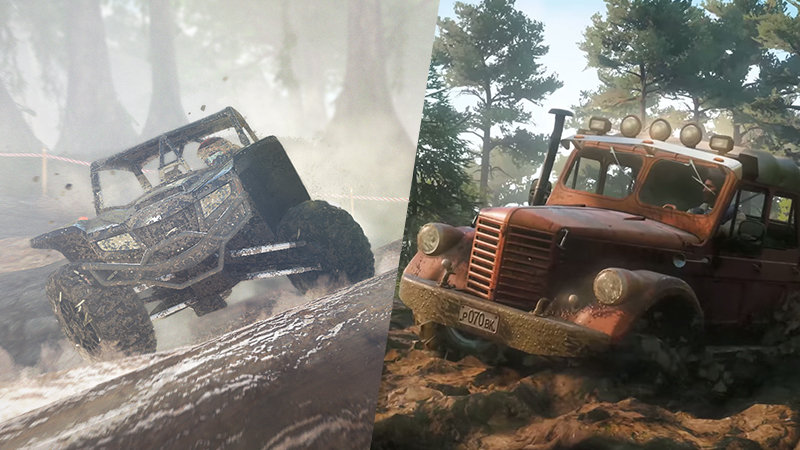 SnowRunner on Epic Games Store service instead of Steam
Spintires MudRunner 2 is once again talked about in news as Focus Home Interactive and Saber Interactive launch one more update on the game. The game was actually supposed to be launched this year but, until now, we have only seen a brief teaser clip based on the game's footage. The good news is that finally, in a recently held presentation during Gamescom 2021, the development companies released the much-anticipated trailer for the MudRunner 2.
The very first game, back then titled Spintires made its debut in 2014 as an early release on Steam. Since that time it has been very popular, with over a million copies sold in total. Focus Home Interactive and Saber joined their efforts in October 2017 in order to redress the original game as Spintires: MudRunner. This version will be adapted for PC and multiplayer-focused consoles.
Staying faithful to the game's style, things took a twist when the announcement trailer of MudRunner 2 came out, particularly where the game title is concerned. In the new game, the terrains were quite different from what the players were used to, so much so that the developers took the decision to change MudRunner 2's title and name it SnowRunner instead. This is now a game with everything that MudRunner has, but you get to drive your truck on a snowy surface.
One more significant change is that players are going to get the PC version of SnowRunner on Epic Games Store. Well, what can we say? So many fans were keeping their fingers crossed for the release of SnowRunner on Steam, however, it seems that SnowRunner is going to opt for the Epic Games Store service instead of Steam.
During the year of 2021, this was causing quite some commotion, and now that it has been officially announced that SnowRunner will be available on Epic Games Store, we can be pretty sure that the many future titles will keep choosing them for their launch as well.
SnowRunner will include off-roading on rough areas covered with thick white powder, as we can deduce from the new title of the game. When a teaser trailer appeared a few months ago, it became evident that this will clearly be the game's key new feature. With the snow players can expect a significantly different game experience than before, when the terrain was covered with mud and dirt, on the other hand, the characteristic style of the game will be maintained.
Particularly in comparison to the first episode of the series, SnowRunner is engineered to provide much better visual effects and more precise physics procreation. The title includes more than 15 accessible maps full of mud, snowdrifts and countless hills and mountain barriers, some of which may be up to four times larger than the one referred from the original.
In addition to the snow-covered maps, this new trailer also confirms many other details previously suggested: there will be different types of cargo other than logs, visuals have been improved, and a new selection of licensed vehicles.
You must be thinking about what happens to the mods, especially since we are not going to see SnowRunner on Steam. Well, the good news is that the developers have shared with us some of the news on mods compatibility as well. Community Manager, Jellyfloosh, announced in his post:
"We can already confirm that, as you would expect, SnowRunner will feature mod support on PC at launch. We owe so much to our mod fanbase and their endless creativity, and we can't wait to see what they will create with our new and improved tools! We'll share more details about this topic in the coming months."
The game is set to be launched on PC via Epic Game Store and other gaming consoles like PS4 and Xbox One. As mentioned in the official post on Focus forums, regular updates on SnowRunner will be uploaded on the website.