Project 20-67 v1.0.0 Car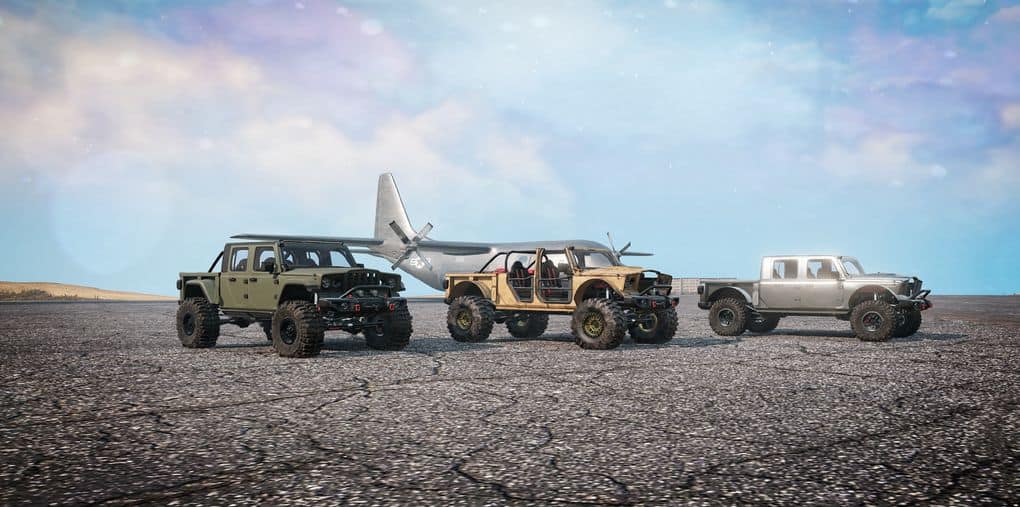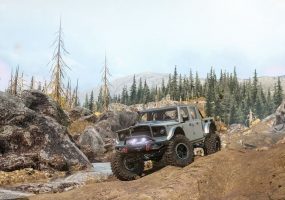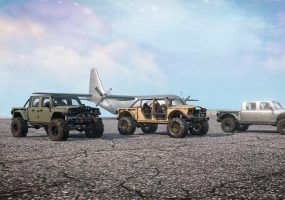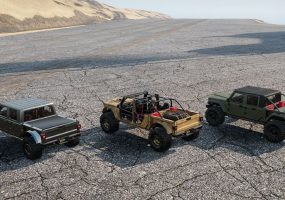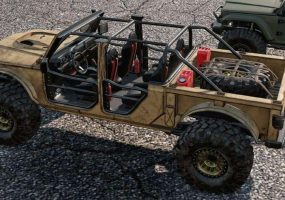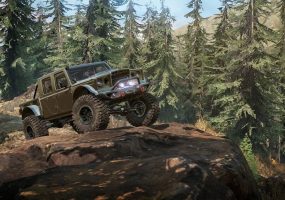 Project 20-67 v1.0.0 Car
For starters, the manufacture rhymes with 'heep'. (Speaking in riddles to keep this console friendly and yes, it's unbranded for consoles)
The truck is a fusion of the full-size 1967 military icon that goes by the nickname 'Five-Quarter' (due to its 1 ¼ ton payload rating)…
…and a new 2020 mid-sized pickup. Fun fact, the civilian version of the 'Five-Quarter' still has the same today. Need another hint… The truck model shares the same name as the 2000 Roman times movie starring Russell Crow.
The 2020's main cabin was stripped bare and widened about 12 inches to bring it into full-sized territory like the 67 version. Every body panel was massaged or custom made to blend the 53-years of styling differences.
The entire truck was given a Resto-Military-Spec treatment keeping only the off-road essentials, so no heated seats or non-functioning infotainment systems here…but hey there's AC.
If you've ever heard of the Easter Heep Safari (Riddles again), then you're familiar with the kinds of custom trucks the manufacture builds for the yearly event. It's all about show trucks with plenty of form…function…and tons of cool-factor. This truck was kinda built with that theme in mind while trying to pay homage to the military roots of the '67.
Stuffed under that beautiful hood lies a 807-HP Hellkitty crate motor.
As with all my trucks, the TrailRunner Spec Tunes/Suspension/Parts are the idea the trucks are built around.
Now, this is far from vanilla, but you'll definitely need to put in some work behind the wheel to keep the truck on all fours while hardcore trailing.
You have the option to run the truck in what I call 'Stock-ish' form, which is essentially the types of tunes and suspension setups that you might find on a modified daily driver.
If you're going to tow with this, I'd recommend you use the appropriate suspension because I tune my truck on the softer side so they're pretty much worthless with heavy loads. The hitches have additional weight built-in. (similar to weighted bumpers) There is an addon of a standard hitch and gooseneck option for the [IR] Gooseneck Trailer Pack. (Thanks IR)
This is a work in progress so there may be some changes along the way.
Credits: Thanks to BigDubz for his Baja Claw and Irok tire. Truck models and Engine. Other tires CGTrader & Sketchup. Some of the wheel centers and other misc parts that weren't made by me started life as CAD conversions from GrabCAD, so a massive thanks to all of those artists for sharing their creations.
Finally, thank you to all the map makers for creating all the amazing places for us to abuse our trucks. Massive respect for all your work, time, and creativity.
See ya on the trail…
BTW…It should go without saying but please do not steal or reupload any of my mods or assets. Thanks, and have a nice day.